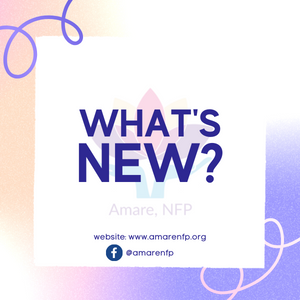 It is amazing what a small organization can do with a great Board of Directors and a passionate all-volunteer staff – you slowly grow into a new life cycle as an organization. At Amare we have many new updates that we think our communities would be proud of. We understand that talking about substance use disorders can be difficult for individuals and families. We also understand some people don't understand that those are searching for recovery need assistance, support, and a community that can respond. This is what Amare set out to do those many years ago when we started from our humble beginnings.
In 2021, Amare received a small grant from the State of Illinois that allowed us to move from all-volunteer to a small paid staff. We also partnered with Ampact's Recovery Corps and have two of their service members working side-by-side with our staff. Riverbend Family Ministries was able to secure a grant of their own and moved all of us nonprofits from a 7,000 square foot building to a 24,000 square new one!
Amare has also been busy with planning new fundraising efforts to help meet our growing staff and demand of individuals and families seeking recovery by utilizing our recovery support services. Our Executive Director has also been busy over the past year consulting and advising two other RCO's to help provide relief to their areas – one up north and one down south. It has been an exciting year that even included adding 3 new Board members and creating the Amare Finance Committee. We are looking forward to a new year of growth and adventures at Amare and we are honored to serve Madison and St. Clair Counties and the individuals and families in them.
If you live in the Illinois riverbend or metro-east and need help or have questions, please contact us at [email protected], 618-251-9790, ext. 207, or 618-741-7669. We are also a Narcan Distribution Center for peers and families. If you would like to donate to our cause, you can mail a check payable to Amare to P.O. Box 384, Wood River, IL 62095 or visit our PayPal page HERE.